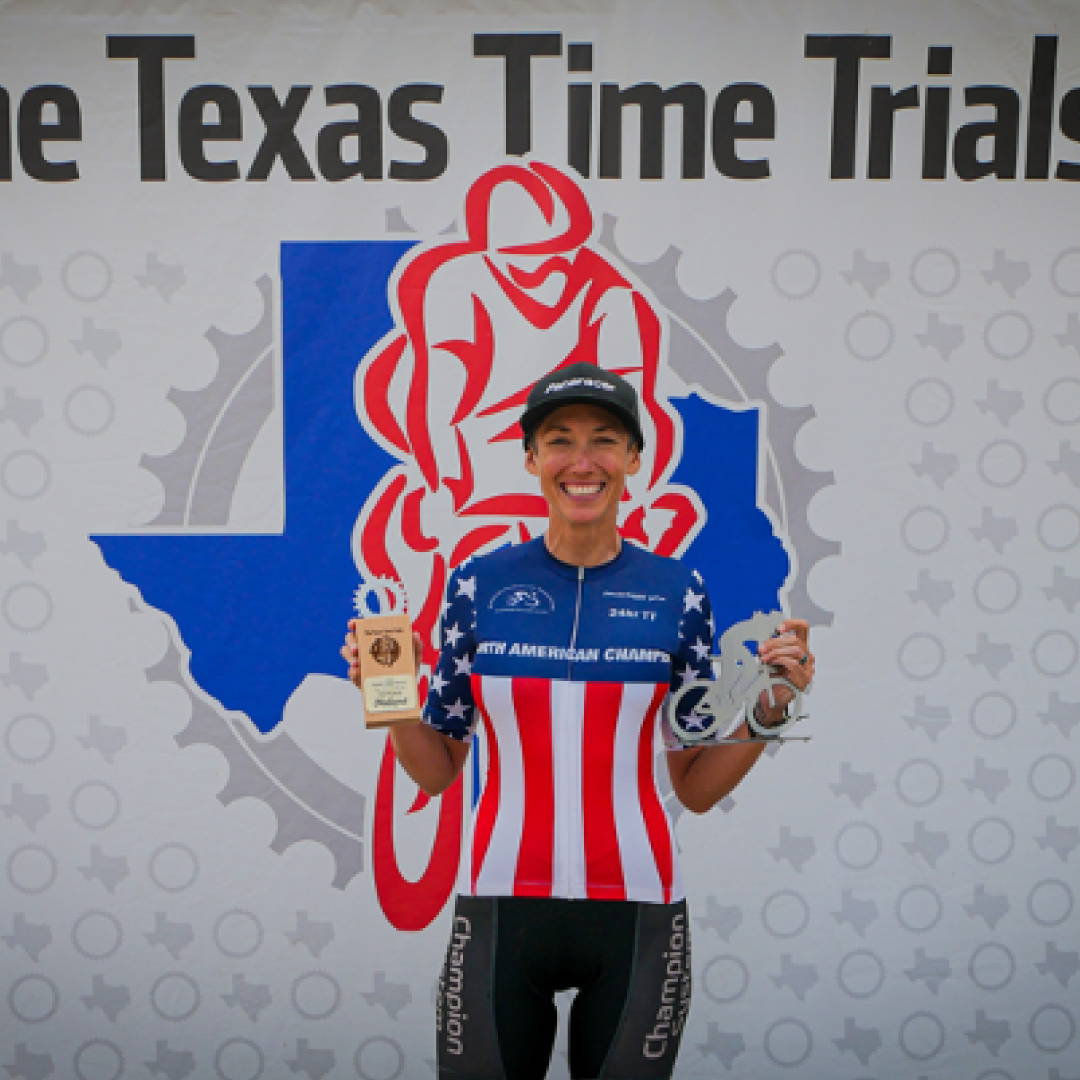 MEET CHRISTIE TRACY, iKOR'S NEWEST NATIONAL CHAMPION
---
---
The 24 Hour Time Trial US National Time Trial Championship was held this past weekend, September 18th - 20th, 2020 in Glen Rose, TX.
At the start of this year, I had no intention of ever racing the Texas Time Trial course again. I raced (and won!) the 500 mile TT National Championship on this course last year. . and it nearly killed me. No, Really. I very nearly ended up in the hospital from dehydration and overexertion last year. I was curled in a fetal position shivering uncontrollably in 90 degree temperatures for an hour after the race ended. This course is brutal. It is a 26.4 mile loop with good 'ol Texas chipseal, brutal hills that don't roll together very well, and usually a ripping wind that feels like it is ALWAYS in your face. And this IS Texas, so it's usually nearing triple digits during the day, with 90+% humidity. I swore upon collapsing across the finish line last year that I would NEVER race this course again!
Then. . . the 'Rona happened, and all 2020 racing came to a halt. Travel plans were cancelled. Motivation to train waned with the lack of events on the horizon. That is until Andrew Willis, a good friend, Ultra Racing Legend, Mentor, and Owner of Holland racing, called me up around July to let me know that the TXTT had just been awarded the US National Championship spot for the 24 hour race. . . that man knows how much I love chasing those Championship Jerseys! I was still leaning toward a big fat "NO", but then he told me that he'd be racing the 24 hour race as well. . and challenged me to a duel. Ok. Now it was ON!
Fast forward to Friday evening at 5pm. I'd put in the training, dialed in the race and nutrition plan, and was ready to give Willis and the other 15 men and women on the start line a run for their money! My goal coming into the race was to win the Women's National Championship Title, and hopefully set a new Course Record (held by Sarah Cooper, another Ultra Racing Legend, and friend of mine!), finishing 16 loops/424 miles in less than 4h29m.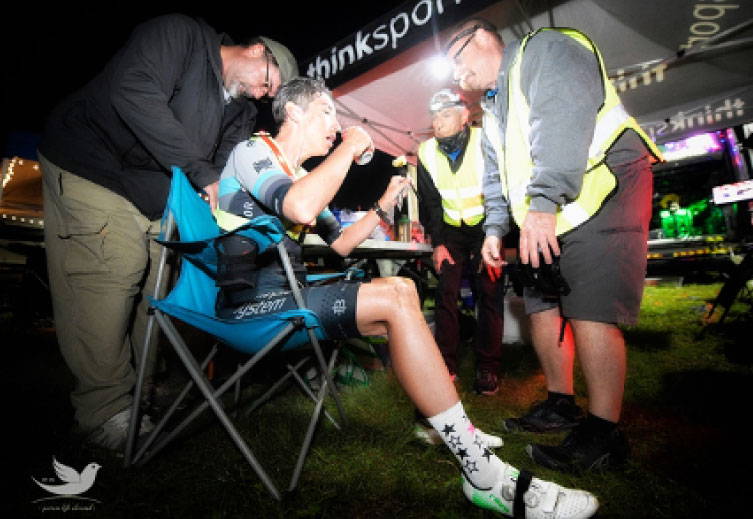 Photo Credit: Lee McDaniel
I planned to go out at a very comfortable endurance pace, and hold this number for the first 4 laps (just over 100 miles), before backing it down just a hair. This process would continue throughout the next 24 hours. . I'd race 4-5 laps (~105 - 132 miles) at a steady pace, then quickly swap bikes, and back my effort level down just a hair for the next 4-5 laps, and so on and so forth, until the end. I'd briefly stop for <30 seconds each lap to swap out bottles/fuel, and also do an iKOR Recovery Shot with every bike swap to help keep inflammation at bay.
We all started together, however this was a no draft event, so everyone had to split up and separate themselves within the first few miles of the race. I went out a good bit harder than I had planned. . but I just felt SO good!! My target was to hold 175W Normalized Power for the first 4 laps, but I glanced down about ½ lap in to see that I was averaging about 195W. The crazy thing was that it didn't FEEL like 195W. . . it FELT like 175. So then I started second guessing myself. . was my power meter running high? If it was, and I backed it down to where it read 175, then I'd actually be going easier than planned. . . . after arguing with myself for a few minutes, I decided to soldier on at 195W, but to pay close attention to any cues from my body that signaled I should ease up a bit. I was shocked to cross the line 2nd overall, with only 1 man in front of me, at the end of lap 1, but in a 24hr race anything can happen, and usually does, late in the race, so placement over the 1st half is really completely insignificant.
I raced through my first 4 laps at a consistent 195W, and found myself 21 minutes ahead of 2nd place, my good buddy Willis, after 105 miles. I swung into the pit, did a quick bike swap, downed an iKOR Recovery Shot, and set off on my road bike to take on the next 5 laps. As planned, I backed the power down a bit, and set off into the darkness, settling into a good rhythm with some sweet tunes playing in my headphones.
Toward the end of lap 9, I realized that I needed to pee, so I decided to make a quick porta-pottie stop at the end of the lap when I swung into the pits to swap bikes again. This is where the wheels fell off a bit. . . It was 5am. I was tired, and hadn't slept in nearly a full day, and had been racing my bike for 12 hours straight. It was pitch black outside, which added to the feelings of fatigue. I found myself unable to get out of my skinsuit in the porta-pottie. . my hands and arms just wouldn't work! I fought with it for a few minutes and finally succeeded. . but then I couldn't get it back on. I broke down crying hysterically. In a porta potty. On the side of a TX road. In the middle of the night! After several minutes of self pity, gnashing of teeth and shedding of tears, I was finally able to get back into my skinsuit, and stumbled out of the porta potty and over to the canopy in the tent, where I was revived with a coke and another iKOR Recovery shot. My knees were sore from the cooler temps and relentless hills, so we rubbed some iKOR Warming Relief on them, and I was finally able to calm back down, jump back on the bike, and get back to the mission at hand, but I'd lost a valuable ~10 minutes with that little melt-down, and my lead on 2nd place (still Willis) had shrunk to 12 minutes.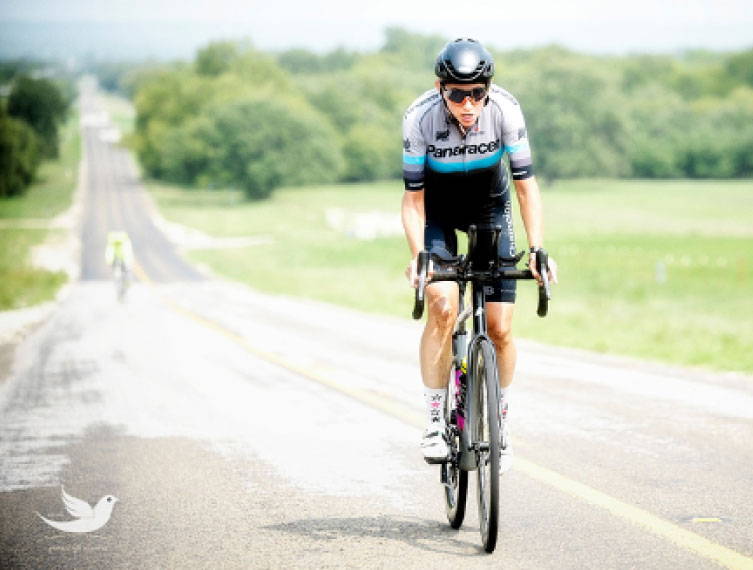 Photo Credit: Lee McDaniel
The sun came up during my 10th lap, which helped tremendously in lifting my spirits, and also reducing fatigue. Back to the grind, I settled into a rhythm again, and just kept pedaling away!
The end of Lap 13 (343 miles) brought a swap back to my TT bike, another iKOR Recovery Shot, more Warming Relief on my knees, and the update from my crew that my lead had shrunk to just 8 minutes. . .Willis was reeling me in. . GULP! Temperatures were also rising. . . It was 11am, the TX sun was beating down on us, and taking its toll.
It was on lap 14 that I had my only mechanical(s) of the day. Back on my TT bike, my chain kept popping off my chainring every time I'd shift from the small to the big ring. . most of the time I was able to pedal it back on, but 4 times when I tried this, it jumped too far to the inside, and got wedged in between my frame and my crankset. . .Panic set in. Willis was on the hunt, and I was on the side of the road trying (and failing) to remain calm while attempting to pry my chain free from my frame. . . I lost several more minutes this lap to Willis, and swapped back to my Road Bike at the start of lap 15, through the remainder of the race.
I finished lap 15 about 3pm, and as I started lap 16, there were 3 hours remaining in the race, and I needed to complete 2 more laps before the cutoff in order to set a new Course Record. I'd been averaging ~1h25m laps, so I knew that this was 100% doable, and as long as I kept pedaling my bike and didn't have another mechanical, I'd meet my goals of securing the course record and winning the 24 Hr Women's National Championship Title. This knowledge helped to pick my spirits back up, and enabled me to remain calm and forge on into my final two laps.
Photo Credit: Lee McDaniel
But then there was the Overall race win. . . was it even possible? It had honestly never even crossed my mind before the race that I would be in contention for the overall win. Andrew Willis is a beast on the bike, and such a mentor to me, that I couldn't fathom actually winning a race outright that we were both in. . .but here I was with a measly 3 minute lead, and 3 hours remaining to race. . could I hold it? ACK!
I picked the pace up considerably on that penultimate lap in an attempt to build my gap and discourage Willis from chasing harder. . . apparently he did the same, however, and going into the final 26.4 mile lap, he had me in his sights, only 30 seconds behind.
Final lap - I buried myself. I poured every last ounce of everything that I had within me into my pedals for every inch of that 26.4 miles. I was in unbelievable agony from muscle fatigue, and was literally crying and screaming out loud as I forced myself to ride harder than I should have been physically capable of riding 23 hours into a race. I stood and attacked every single hill, and mashed down the descents as well. My coach was texting me "GO, DIG, GO, THIS IS FOR THE OVERALL!", and his texts of encouragement were blinking on my head unit. I was chanting to myself in my head "I Can, I Will." with every pedal stroke, just trying to occupy my mind with anything other than the excruciating pain that I was inflicting on myself. I didn't dare glance back. Nothing was back there for me. Bloodshot eyes fixed on the road ahead, I raced through that final lap with the single goal of getting across the finish line, and leaving it all out on the course so that there could be no regrets. And I did it.
23 hours, 38 minutes, and 49 seconds later, I crossed the line on my 17th lap, having completed 448.8 miles, setting an overall course record, and winning the 24 Hour TT National Championship Race outright. I'm still in shock. I am still waiting to wake up and realize that it was just a dream, but it hasn't happened yet!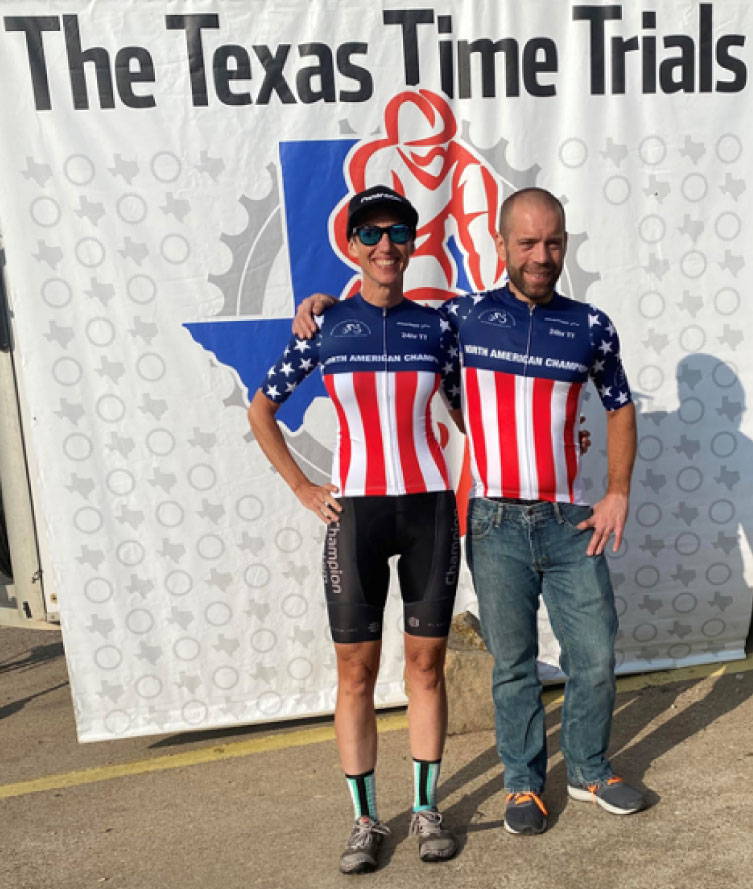 Of course, Willis and I hugged it out after the race. We both share such a mutual respect for each other, and appreciated the other for pushing us so hard that we both achieved some PBs that we had previously thought were out of reach.
I have to give shout outs to:
My AMAZING Husband/Crew Chief/Mechanic, Jamie Tracy, who manned the pits and provided handups flawlessly the entire race, not to mention provided heaps of emotional support!
My OUTSTANDING Coach, who dialed in my training to perfection, and wouldn't let me give any less than my all out there when it mattered
The awesome team at iKOR, who have developed an amazingly effective array of sports recovery/CBD products that I simply cannot imagine training and competing without. I honestly don't know that my knees would have survived the race this past weekend, without the Warming Relief, and a double dose of iKOR Daily had me sleeping like a baby after the race despite the massive amounts of caffeine, adrenaline, and endorphins running through my veins!